Fujifilm Instax Square SQ1 Glacier Blue
Free Klaim : 1 Square White Marble
Keterangan : Free Klaim customer dapat melakukan klaim dengan mengisi data di https://instax.id/id/claim-promo batas klaim s/d 14 Januari 2021
Periode Promo : 01 - 31 Desember 2020
Retractable lens (65.75mm, F12.6)
Full-automatic exposure control (flash always fires)
Variable shutter speeds from 1.6 to 1/400 sec including slow synchro for low light
Selfie mirror on front of lens
Selfie/close-up mode
Auto frame counter
Powered by two CR2 lithium batteries
Available in: Terracotta Orange, Glacier Blue and Chalk White
SKU
FUJ-INS-SQ1-0-GL-0-RES
Fujifilm Instax Square SQ1 Glacier Blue
Fujifilm Instax Square SQ1 Glacier Blue adalah kamera instan yang bergaya dan mudah dioperasikan yang menggunakan format film Instax Square. Kamera baru ini hampir mirip dengan versi sebelumnya, karena tidak memiliki banyak fitur lanjutan yang ditemukan pada kamera ini. Tapi masih bisa menghasilkan gambar Instax yang memikat.
Spesifikasi Fujifilm Instax Square SQ1 Glacier Blue
Retractable lens (65.75mm, F12.6)
Full-automatic exposure control (flash always fires)
Variable shutter speeds from 1.6 to 1/400 sec including slow synchro for low light
Selfie mirror on front of lens
Selfie/close-up mode
Auto frame counter
Powered by two CR2 lithium batteries
Available in: Terracotta Orange, Glacier Blue and Chalk White
Square Format
Kreativitas tanpa batas dengan kebebasan dan bentuk frame yang lebih luas.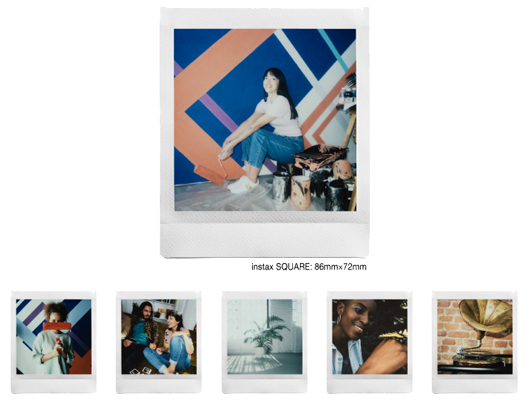 Key Features
Pencahayaan Otomatis: Jepret foto yang cerah bahkan di ruang gelap - tidak perlu pengaturan khusus.
Mode Selfie: Dapatkan selfie yang sangat jernih dengan mode Selfie. Posisikan diri Anda di cermin selfie untuk bidikan terbaik! Mode selfie juga bagus untuk close-up.
Operasi sederhana: Putar lensa untuk menyalakannya. Putar lagi untuk mode Selfie.
User Frendly
Fujifilm Instax Square SQ1 beroperasi dengan dua baterai CR2. Di bagian belakang kamera, Anda juga akan menemukan penghitung film otomatis yang menunjukkan berapa banyak jepretan yang tersisa dalam paket film Anda dan jendela bidik kamera. Hidupkan kamera dengan memutar lensa ke posisi 'on'; jika Anda memotret selfie atau ingin mengambil foto makro, putar lensa kamera sekali lagi untuk mengalihkannya ke mode 'selfie' (efektif untuk subjek dengan jarak antara 0,3 dan 0,5 m).
Memotret dengan Instax Square SQ1 sangat mudah. Cukup aktifkan kamera, lihat melalui jendela bidik dan tekan tombol rana pada pegangan depan kamera. Jika Anda memotret selfie, gunakan cermin kecil di bagian depan lensa untuk membingkai bidikan.
Harga Fujifilm Instax Square SQ1
Harga Kamera Instax Fujifilm Instax Square SQ1 di Galaxycamera.ID merupakan harga terupdate setiap bulannya mengikuti promo yang berlaku dari Fujifilm Indonesia. Bagaimana apakah masih bingung dengan sq1 lumix ?. Jika anda masih bingung. Silahkan hubungi Customer service Galaxycamera.ID. Customer service Galaxycamera.ID akan siap menjelaskan kepada anda kelebihan dan kekurangan lainnya dari instax sq1 .
Film
FUJIFILM instax SQUARE instant film
Photo Picture Size
62 mm x 62 mm
Lens
2 components, 2 elements, f = 65.75 mm, 1:12.6
Viewfinder
Reverse Galilean finder, 0.4×, with target spot
Shooting Range
0.3 m and beyond (use selfie mode for 0.3 m to 0.5 m)
Shutter
Programmed electronic shutter
1/2 to 1/400 sec.
Slow synchro for low light
Exposure Control
Automatic, Lv 5.0 to 15.5 (ISO 800)
Film Ejection
Automatic
Film Developing Time
Approx. 90 seconds (varies depending on the ambient temperature)
Flash
Constant firing flash (automatic light adjustment), recycle time: 7.5 seconds or less (when using new batteries), effective flash range: 0.3 to 2.2 m
Power Supply
Two lithium batteries (CR2), capacity: approx. 30 instax SQUARE film packs (under FUJIFILM test conditions)
Auto Power Off Time
After 5 minutes
Other
Includes film counter and film pack confirmation window
Dimensions
130.7 mm x 118.6 mm x 57.5 mm
Weight
390 g (without batteries, strap, and film)
Unit Fujifilm Instax Square SQ1
Baterai (CR2)
Hand Strap
Panduan Manual
Kartu Garansi
Apakah kamera ini terdapat layar ?
Tidak ada layar pada kamera ini,hanya ada keterangan angka paper dan baterai yang tersisa.
Apakah kamera ini bisa menyimpan foto ?
Tidak,kamera ini jenis polaroid yang tidak dapat menyimpan foto.Hasil foto langsung tercetak berupa instax paper.
Apakah kamera ini dapat di charger ?
Ya,baterai kamera ini dapat di isi ulang menggunakan charger.
Tersedia berapa warna untuk kamera ini ?
Tersedia 3 pilihan warna yaitu Chalk White, Glacier Blue dan Terracotta Orange.
Apakah kamera ini bergaransi ?
Ya,kamera ini bergaransi resmi Fujifilm Indonesia selama 1 tahun.
Apakah kamera ini sdh termasuk kertasnya ?
Belum,kertas/instax paper bisa di beli secara terpisah.Untuk kelengkapan bisa cek keterangan isi dalam box di bawah.
Apakah kamera ini dapat di kredit ?
Bisa,untuk Informasi seputar kredit bisa hubungi 082111311131.